| | |
| --- | --- |
| A Written Business Plan Is Your Road Map To Success! | |
Submitted by eWorkshop Courses | RSS Feed | Add Comment | Bookmark Me!



Creating or running a business without a business plan is like driving to a destination without knowing where you are going - success will be accidental, if achieved at all. A business plan is absolutely critical for any business and the majority of businesses that fail do not have a clear path to success organized within a written business plan.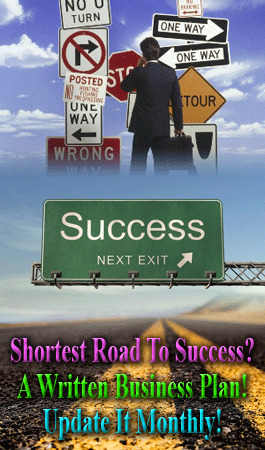 When you are creating or upgrading a business plan, you may need some help structuring this living document, and as you move forward with your plan, it should be updated at least quarterly and grow in detail as your business grows. If you have an Executive Summary, or need to upgrade your business plan, consider consulting with an expert.
A properly structured business plan will also help you raise capital and qualify for SBA or conventional loans. The following are considerations to help get you started and represent the main bullet items for your business plan.
Synopsis of the Company
Market Opportunity and Analysis
The Business Solution Provided
The Revenue Model
The Management Team
The Operations Plan
The Marketing Plan
The Sales Plan
The R & D Plan (if applicable)
Capitalization and Financial Requirements
Exit Strategy
Financials (Projections)


Start by writing a couple sentences under each of the above headings, and you can be done with the first draft of your business plan within 15 minutes - that's all it takes. It doesn't have to be perfect, just note your ideas and articulate them. Review your ideas, write them down, and add them to your business plan - it is a "living" document, which means it changes.
Perfection is a great goal, but when it comes to a business plan, it is really just a matter of putting your ideas down in writing. You can have it reviewed later and test your ideas with your advisers. If you can articulate your ideas in a way that everyone can understand and it makes sense, you have a good plan.
"Plans fail for lack of counsel, but with many advisers they succeed." Proverbs 15:22
---
Teo Graca is our expert entrepreneur and business advisor and will also provide personal development coaching. He has written or helped write over 250 business plans over the last 25 years and has developed a standard for designing successful business planning strategies.

A typical first draft is called an Executive Summary and can be crafted in just 3-5 hours. Creating and testing a Revenue Models is done through your projections. Although it generally takes 5-10 hours hours to come up with a valid Revenue Model model, Teo can do some or most of this work for you. Get insights and professional guidance on your most significant business planning task - the Revenue Model.

Schedule an hour with Teo to discuss your project. The Motivation Coach program will accomplish this and so much more. CLICK HERE for scheduling and details. Satisfaction absolutely guaranteed!

Click for Details --> Motivation Coach <--