eWorkshop Publishing

| | |
| --- | --- |
| | 27 |
Submitted by Net-Teams, Inc. | RSS Feed | Add Comment | Bookmark Me!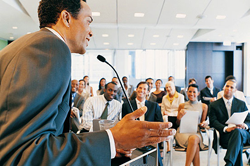 eWorkshop publishing provides face-to-face instructors with an opportunity to expand their audiences on-line and create a recurring revenue model through the use of prerecorded video workshops. An eWorkshop is like a webinar, in that it can be recorded live , but it is then edited into an effective set of short, engaging and easily-viewed videos that are indexed by the search engines and easily found, marketed and sold.
Our recommendation is to create short 3-8 minute segments of your presentations and sell them on-line. The key is to provide new content and videos each month to motivate prospects to buy into a subscription or other service that includes access to new content as it is released, and the library of videos you have already created.
eWorkshops also act as an up sell process for your higher priced services and products. If you think of how every product or service you have as part of your sales funnel process, by providing lower priced subscription based access to high-level information, it can lead current customers directly to your next step and build solid relationships in the process.
We provide the following programs to get you started creating and fully developing your eWorkshop business model:
eWorkshop Authoring and Creation

eWorkshop Moderation

eWorkshop Publishing

eWorkshop Marketing and Promotion


eWorkshop Sales
These programs are now available from Net-Teams.

Click for Details --> Contact Net-Teams <--