Search Engine Optimization (SEO)

| | |
| --- | --- |
| | 1020 |
Submitted by Teo Graca | RSS Feed | Add Comment | Bookmark Me! | IBC
Search Engine Optimization, or SEO, is a term that has come to be associated with passive (automated) strategies on your website(s) that allow the search engines to find your site, and ultimately display your website pages on the first page of a search based on keywords or phrases. Although SEO has incorporated other ideas in the past, including article marketing, search engine marketing (SEM) and other more proactive (not automated) marketing techniques, I will discuss it here in terms of the more current passive techniques, which involves the code underneath your website, content and interlinking associated with social media and other sites.

As the leader in this market, Google preaches, and has preached for years, the idea of relevance as its primary measure of what ranks best within its searches, and the other search engines have followed suit. There is something called Meta Data that sits underneath your website pages (the code) that specifies things like title, keywords and description.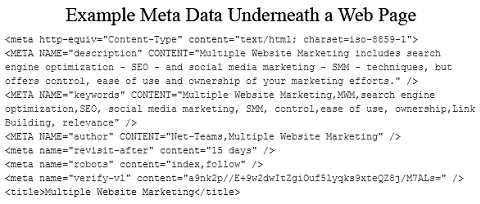 The Meta data is some of the key information used by the search engines to determine relevance. Content and how the associated keywords are dispersed through the content reinforce the selection of keywords associated with the web page. Keyword selection and its association with the content for any given page are paramount to establishing relevance. Keyword selection and placement is part art and part science, but it is a skill that has to be learned, along with other aspects of SEO to do it effectively.

As a quick side note, if you ever get curious about the code that sits under a website, you can view the source of a page in most web browsers by selecting the VIEW menu item and clicking Page Source or View Page Source.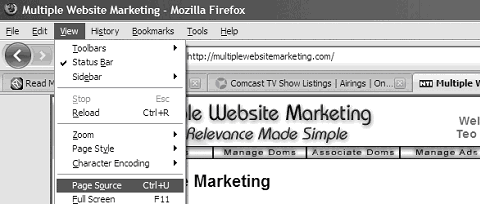 Another thing that we have found through trial and error is that the search engines list websites higher in the rankings when they have a keyword or phrase associated with the domain name. For example, if someone searches on the key phrase "health care for seniors" and there is a "HealthCareForSeniors.com" website that is properly optimized, it will rank higher than a web page on another domain. This was the basis for the idea behind the Multiple Website Marketing (MWM) tool I will discuss later. One of the things you will notice throughout this book is that I reference the idea that people have more than one website. Domain registrations are cheap and it is becoming like a land grab as more and more people register domains and build them into their sales funnel process.

Dynamic content is important. Search engines like to see new content every time they index the site. This adds to the level of relevance your site has.

Other important factors for SEO include back links. Your social media accounts generally link back to your main website(s). There are other sites that can link back to your site too and every search engine listing provides a link back to your main web presence. We have a chapter coming up on the history of search engines that will cover the importance of this too.

Outbound links establish credibility and relevance for your website too. Search engines count this as part of their ranking calculations. When you provide a link to another source on another website, you are providing access to information you don't own or control and it not only counts as an inbound link (back link) for that website, it says you know, trust and like that content, making your site a trusted source for relevant information. These inbound and outbound links form your interlinking strategy.

I see too many businesses creating "closed" websites, which means they don't provide any outbound links to other websites. This is not the way the Internet works and doesn't add anything to the SEO for the site. The Internet is called the "Web" because it represents an interlinking of websites and relevant information, linked together like a virtual spider web. When I find sites like Fast Pitch Networking (FSNet) that incorporate a closed social networking site as the basis of its business plan, I can only predict gloom and doom. It's like planning a canoe trip so that your entire experience is rowing against the current.

As a small example of the problem here, I posted some new content on my blog and added it to my FSNet account too. That system then copied my content instead of referencing it on my blog. Later when I found something that I wanted to change, I had to change it in two different places. I quickly found that the FSNet system wouldn't allow me to edit the content – another issue. Also, for anyone in the system that reads my content, they don't see the other content on my blog, but instead see advertising for FSNet. Finally, since FSNet didn't provide a link to my blog, I didn't get the benefit of the back link, which helps fine-tune SEO for my site. I tend to view a closed network as a bad thing.

To me, closed networks represent a waste of time and content since you have to learn how to use the systems (each works differently), many limit the ability to create outbound links, and only members of the network (generally a small subset of members defined as your "friends" or "connections") can find the content. Other closed networks include LinkedIn and FaceBook. They do provide the ability to create outbound links, but the content and outbound links you create are only available to your connections. The major difference here is that they have millions of members and some functionality that allows you to reach outside of your connections. These two sites have generated business for me and have proven to be worth some of my time.

Another more powerful closed network is Ning (ning.com). It allows you to create your own community, connect with people directly in other communities and message all of your "friends" throughout all communities you have joined, or everyone within your community. It is easy to set up and build a network quickly. When you work through social networking sites seeking effective use of your time, the key benefit is the ability to touch as many people as possible with a single action. Ning is one of the best social networking site I have found to date for this.

From Teo's book:

Social Media Marketing and Syndication
The Evolution of Advertising

Copyright 2009 GLI Publishing
All rights reserved

Edition 1.1 eBook

ISBN: 978-1-61623-440-9

Click for Details --> Get Teo's Book! <--