Sales Funnel

| | |
| --- | --- |
| | 1042 |
Submitted by Teo Graca | RSS Feed | Add Comment | Bookmark Me! | IBC
The sales funnel process is a way to capture prospects and nurture them into customers. Further, it is a way to retain your customers and prompt additional purchases from them for other products and services that you offer.

On the web, the more successful sales funnel processes are created through a series of micro sites where each promotes just one aspect of one of your products or services. Each can be used to capture visitor contact information, which usually includes a name, email address and phone number. This contact information can then be used to provide useful information on a regular basis and funnel prospective customers to the next step toward the purchase. Once you have the contact information for a person, this person is effectively a prospect and not just an interested visitor or reader (lead) and you can begin marketing to this person. Additional information on which mirco site or article the prospect had been reviewing is also useful and can be used to develop a specific sales funnel associated with that article or micro site.

In 1898, the American advertising and sales pioneer, E. St. Elmo Lewis, developed a practical sales tool called the AIDA sales funnel model. It explains the mechanisms of selling. Lewis held that successful salespeople followed a hierarchical four-layer process using four cognitive phases that buyers follow when they accept a new idea or purchase a new product.

The AIDA model describes the basic process by which people become motivated to act on a purchase and is based on external stimuli from your sales language and presentation.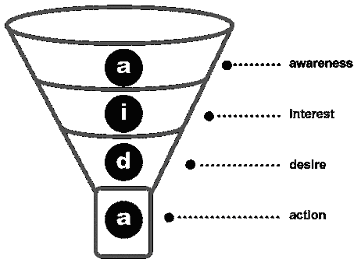 This motivation to make a purchase (convert) depends on:
AWARENESS of the existence of a product or service
INTEREST in paying attention to the product's benefits
DESIRE for the product.
Lewis determined that the fourth stage or mental state is ACTION – a natural result of moving through the first three stages, which ends with desire leading to action. The questions that lead to action, if answered correctly, are:
Is this information applicable to me?
Why is this applicable to me?
Do I really need it?
How do I get it?
If you can answer these questions effectively and organize the answers into several delivery methods, you will have a great sales funnel process. Even though one approach might be working better overall than the others, the others may attract specific personality types that the best performer doesn't.

In 1911, Sheldon extended the model with a fifth phase called "permanent satisfaction" to stress the importance of repeat sales. Customer retention is a huge issue and the original model didn't include this aspect of the sales process. In the following decades, the AIDA model served to study how advertising affects consumers. It was the basis for numerous motivational-driven research models for consumer behaviors, which are still in use today.
The AIDA funnel model can be used as the backbone for structuring your organization's sales. The sales funnel helps you to better target a customer by basing sales tactics on the client's position in the funnel. The sales funnel process allows you to construct an overview across all sales materials to deliver more effective lead generation, nurturing, and customer conversion. You can also test several parallel sales funnels that use similar information with different styles of copywriting to determine which works best.
The sales funnel I work with on a daily basis is a little different, but is based on the same approach. We break up our contacts into specific states within our system.
Leads – One of our sales personnel has met someone face-to-face and discusses our products and services; they become aware of us. Leads can also come from word-of-mouth referrals.
Visitors – People visit our websites or social media postings and develop interest in what we are doing. Visitors can also find us through search engines and social media sites. In some cases, we include visitors also as leads – they may be aware of us, but are not yet interested.
Prospects – These are visitors that have filled out one of our opt-in forms to get more information. They have expressed desire.
Customers – These are prospects that have taken action and actually purchased a product or service.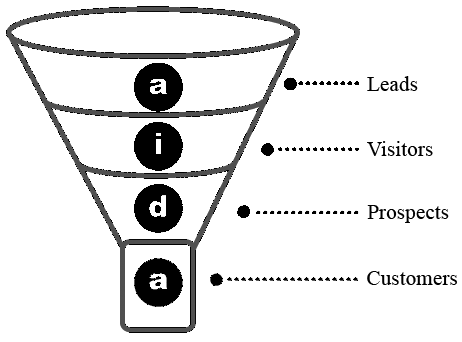 This sales funnel recognizes the same states as the AIDA model, but assigns a tag to the status based on actions we can measure.

The key to any sale funnel process is better customer targeting and communications through different sales tactics based on a person's position in the funnel. In upcoming chapters, I will discus how to break this process down per product or service and even per feature, application or benefit of a product or service.
From Teo's book:

Social Media Marketing and Syndication
The Evolution of Advertising

Copyright 2009 GLI Publishing
All rights reserved

Edition 1.1 eBook

ISBN: 978-1-61623-440-9
---
To learn more and get your Internet Business Certification, check out the IBC Website. Click for Details --> Business Development <--