Internet Business Certification - The First Step to Monetizing Your Passion

| | |
| --- | --- |
| | 810 |
Submitted by Teo Graca | RSS Feed | Add Comment | Bookmark Me!



Selling on the Internet has become a business industry worth over 100 Billion dollars! If you are not a part of this, you might want to make a place for yourself while you still can. Every day you wait, you are losing market share!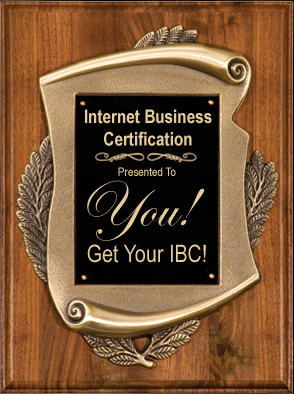 As a speaker, writer, and information architect in this industry since the beginning of the Internet, I can tell you that now is the time to get involved. With so many people losing their homes and suffering from unemployment, there is a desperate need right now for the real life business experience provided in this course.

Don't get caught up with instructors that teach you how to spend your time doing everything yourself. It's important to make sure certain things get done, but you may be surprised to learn that these tasks can be delegated for a few dimes or dollars per hour of your time. How much is your time worth?

We have slimmed down our 16-week program into the Internet Business Certification program, which you can complete in less than 30 days. It provides the fundamental training you need to know to succeed in a web-based business. Universities are just starting to offer programs that cost you years of full time learning and 10's of thousands of dollars. Note that the Internet changes daily and what they offer is generally outdated before you even begin learning.

There are 6 basic skills you need to get where you need to establish a significant income on the web. With a certification in just one of these skills, you can build a full time income from a small time commitment each month. When you put them all together, you can dominate your niche and help others in the process.

The Internet Business Certification (IBC) program offers 6 courses with 70 easy to follow modules from authors and experts in the industry. Get your certification today to help you succeed in business and your career.

Click for Details --> Business Development <--


LinkedIn Recommendation:

Sean Nelson - We improve your conversions by at least 20% or you pay nothing for our work. - Teo is on the cutting edge of the social media scene. I've had the opportunity to share the stage with him at a forum on Social Media and to also follow his progress with the Net Teams site. Not many people get the whole picture when it comes to social media. He does and he's helping rewrite how social media interacts with chambers of commerce. - May 15, 2008, Sean was with another company when working with Teo at Net-Teams, Inc.
Featured [Internet Business] Articles: